The Witcher 3 Wild Hunt GOTY Edition GOG CD Key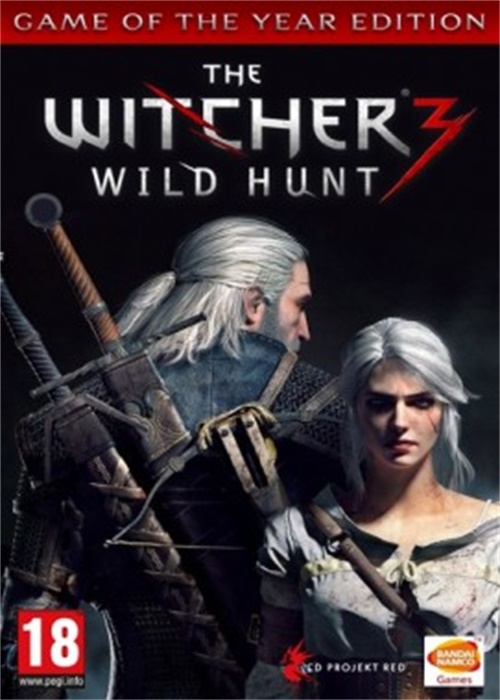 The Witcher 3 Wild Hunt GOTY Edition GOG CD Key
Items included in this bundle: The Witcher 3: Wild Hunt Game ; The Witcher 3: Wild Hunt - Hearts of Stone ; The Witcher 3: Wild Hunt - Blood and Wine
Description du produit
The Witcher 3:Wild Hunt is the final episode of the award-winning RPG series and a triumphant finish to the legend of Geralt of Rivia. While the Witcher 3 is the pinnacle to the Witcher series, it is also a standalone story that players new and old will love, as they have another chance to live the dangerous life of a witcher. The Witcher 3 will have a free roaming, open world to explore. The story will have many non-linear quests to keep players satisfied for over 100 hours.

The Witcher: Wild Hunt is a story-driven, next-generation open world role-playing game set in a visually stunning fantasy universe full of meaningful choices and impactful consequences. In The Witcher you play as the professional monster hunter, Geralt of Rivia, tasked with finding a child of prophecy in a vast open world rich with merchant cities, viking pirate islands, dangerous mountain passes, and forgotten caverns to explore. PLAY AS A HIGHLY TRAINED MONSTER SLAYER FOR HIRE - Trained from early childhood and mutated to gain superhuman skills, strength and reflexes, witchers are a distrusted counterbalance to the monster-infested world in which they live.

Features:
EXPLORE A MORALLY INDIFFERENT FANTASY OPEN WORLD - Built for endless adventure, the massive open world of The Witcher sets new standards in terms of size, depth and complexity.
CHASE DOWN THE CHILD OF PROPHECY - Take on the most important contract to track down the child of prophecy, a key to save or destroy this world.
FULLY REALIZED NEXT GENERATION - Built exclusively for next generation hardware, the REDengine 3 renders the world of The Witcher visually nuanced and organic, a real true to life fantasy.
Whokeys.com is a reliable and competitive online retail store that provides a wide variety of popular game products on all platforms, all kinds of gift cards and other software products. Purchase our products that we got from formal sources. Furthermore, Whokeys will keep updating our stock with everything you need.
Original Price

EUR 59.99

Discount

-69%

Earn Up to EUR 1.48
Plateforme

Région

Mots clés

ACT AVG RPG

Stock

Avoir de produits en stock
Fermer

Bienvenue sur la page de connexion de whokeys
Adresse électronique

Mot de passe

Code de vérification :

Mot de passe oublié ?
Pas encore inscrit ?
Sign Up Now
Connectez-vous avec un compte tiers:
Open the whokeys APP
Scan The code to login
Fermer

Bienvenue à l'enregistrement whokeys.
Adresse électronique *

Please enter a valid Email.

Mot de passe *

6 to 16 letters, numbers, and special characters.

Confirmer mot de passe :*

Prénom* Nom*

Code de vérification :

Abonnez-vous aux offres whokeys, aux concours et à la newsletter
Vous avez déjà un compte whokeys ?
Se connecter maintenant
Connectez-vous avec un compte tiers
Fermer

Mot de passe oublié
Entrer email
Vérifier identité
Réinitialiser le mot de passe
Mot de passe modifié
Account:

Un code de vérification va être envoyé à :

Code de vérification : :

Nouveau mot de passe : :

Confirmer nouveau mot de passe : :
Fermer
Prompt T698563:
The programe has been successfully submitted to the system
Fermer
Prompt T698563:
The programe has been successfully submitted to the system
Fermer
Prompt T698563:
The programe has been This is a warning ?
Fermer

Successful Registration

Welcome ! You have successfully signed up to be an whokeys member.
Close

Vérification de sécurité
A new item has been added to your Shopping Cart.